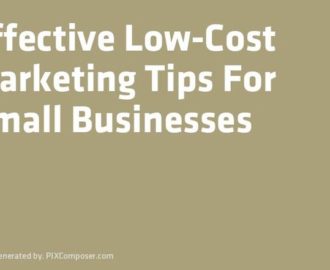 The World Wide Web came with endless possibilities. It is now easier even for small businesses to create and maintain business presence. However, it is easier said than done. Many marketers have found themselves in a situation where they are spending a lot of money in advertising and marketing but end up wasting their money. According to Forbes, almost 50% of advertising is wasted. That is a lot of money considering the fact that companies spend billions of dollars to gain customers. So how do you ensure that your marketing efforts are strategic, effective and low-cost? Here are some tips you need to consider.
Know your market
It is imperative to have a clear understanding of your market if you are to succeed in online marketing. Before you even start spending on marketing, you need to figure out your market. That invariably entails knowing your product very well. Once you know your product and how it can help solve your clients' needs, it will be easier to identify your target market. Once you can identify your target audience, it easy to design a winning marketing strategy without even having to hire an expensive marketing agency.
Your advertising decisions should be based on research
No one goes into the battlefield without designing a winning plan. The case is no different when it comes to marketing and advertising. It is important to come up with a well-researched and well-thought-out marketing plan. This will help you to determine the best and most effective marketing channels to reach your audiences. Remember customers don't care about you. They only care about what is important to them.
Things like demographics, CCP, frequency, readership and BPA should be familiar to you. It is important to know how each marketing channel will contributing to your overall growth if you want to make a difference and reap big from your efforts.
Networking
Did you know that networking is one of the most effective marketing tools you can use without the need to break the bank? As a first rule of thumb, and everyone you meet on your list of network, and in your social media connects. You can also create fan page for your brand and encourage your friends to be your brand ambassador. To take things even further, join a local business community and be an active participant. If they like your brand, they will tell their friends, colleagues and relatives without even your knowledge. People are your greatest assets. Do not underrate what they can do for you.
Content marketing
One of the most effective form of marketing is content marketing. It is not only cheap, but very effective ways of building relationship among people who are genuinely interested in your products. Serious marketers and small business owners have a blog, which they update frequently. In our blog, it is important to try to offer genuine information to your audience. It shouldn't be always about advertising your product because you don't want to come across a salesman who is only interested in selling his/her products.
Leverage social networks
LinkedIn, Facebook, Twitter, Instagram and Google Plus are all popular networks that you can take advantage of to market your products and services. They can be a great source of traffic if you share interesting stuff. By creating and sharing great content, you will be growing your audience. however, you need to be patient as it can take years before you build a strong following.
Mjrvisuals  can help you increase your reach out of that content in your website through our expertise. Video production on your social media can be one of the ideas you can use for marketing and telling your story. We run the gambit of visual imagination including video production, digital marketing, video editing, print design, advertising, graphic design, graphic animation, motion graphic and media design. Be part of our portfolio of clients and let us tell your story to the world. Click here to visit our website: mjrvisuals.com/